Plumbing & Drainage
Plumbing Services
General domestic plumbing is a core service of our business, from a tap washer to a full house plumbing installation. Our customers will enjoy an excellent standard of service upon which our reputation demands.
Listed below are just some of the categories of domestic plumbing repairs and installations we carry out
Conversion from open vented hot water cylinder to sealed un-vented systems
Cold Water Storage Tank replacement/installation
Hot Water Cylinder replacement/installation
Immersion Heater replacement
Shower installation
Kitchen refurbishment plumbing
Radiator installation/replacement
Complete Central Heating systems
Washing machine/Dishwasher installation
Outside taps installed
Burst pipes repaired
Dripping/broken taps
Un-vented Hot Water Sealed Systems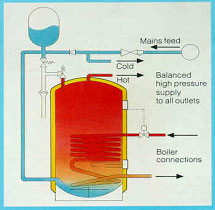 Blue Flame Heating Solutions are certified to Install, Commission and Service Un-vented Hot water Sealed Systems.
Prior to 1985 it was illegal to install an un-vented hot water storage system with a capacity greater than 15 litres directly connected to the cold water mains supply.
With the introduction of the Building Regulations 1985, a relaxation of the Water Byelaw's current at the time and the Water Byelaw's which came into force on the 1 January 1989, such systems may now be installed in the UK.
Testing Requirements
Because of the differences between un-vented hot water storage systems and traditional vented hot water storage systems within the UK regarding the requirements for safety devices, it is essential that un-vented systems comply with the Building Regulations and that installers are competent i.e. one holding a current Registered Operative card for the installation of un-vented domestic hot water storage systems.
The advantages of the un-vented system are:
Balanced hot and cold water pressures.

Improved shower performance.

Less pipework and no storage tanks.

Reduced risk of frost damage to system.

Saving on installation time and costs.

High resistance to corrosion.

Excellent heat transfer capability.

Allows the use of a wider range of modern tap fittings and showers.

High efficiency insulation.

Flexibility of vessel location and hence system design.
Did you know that un-vented (or pressurised/mains pressure) hot water systems should only be repaired or installed by certified engineers?
Ask your installer if they are certified and check their ID card before getting work done!
Blue Flame Heating Solutions are certified to Install, Commission, repair and Service un-vented hot water systems contact us 01382 84 83 84 to discuss your requirements.